Google '360 View' Interactive Virtual Tours
360 Panorama Virtual Tours Customized for Google Maps Business Views
To schedule a complimentary consultation Contact Us or Call 941-227-3251 today!
Scarlet Macaw Resort Wear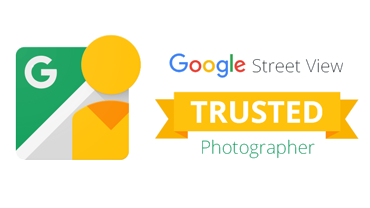 With Google Maps '360° View' Virtual Tours, your customers can walk inside your business and see the ambience & decor with familiar Street View navigation.
Customers will be able to truly experience your business with an interactive virtual 360 degree panorama – just like being there!
What is Google Business View?
Google Business view is a premium quality, 360 degree virtual tour powered by Google Street View technology. Just as Google Street View allows people to explore city streets, Google Business View allows customers to virtually walk through the inside of a business as if they were actually there.
Why a Google "See Inside" Virtual Tour?
When someone "Googles" (searches for) your business, the most important details about your business are presented on your Google 'Places' listing and on Maps. It is the first thing people will see about your business on Google. Not your website.
We make your storefront or restaurant visually appealing. Why? To entice customers to explore your business and help to attract new clients.
Virtual Tours increase your visibility in Google search and Maps which boosts traffic to your Google listing, photo gallery, and website.
Details of a virtual tour project
After we photograph your business and complete the extensive editing process Google will review the tour and publish it to Google Maps, Search and on your Google + Page. (it may take 1-2 weeks for processing)

In addition to photographing the virtual tour, we provide a set of high quality HDR Feature Photographs of your business, inside and out. 
We also include a QR Code to your tour which can be used in print media. You can also link or embed tour on your website, Facebook, etc.

How much does a virtual tour cost?
There's a one-time fee for the photo shoot, editing and publishing. (starting at $299) Determined by floor plan and size at time of site evaluation. Special pricing for multiple business locations, updates and Google Services package. (Single 360 Street View Images @ $149)

Call 941-227-3251 or Contact Us to See If Your Business Qualifies
Examples of Our 360° Virtual Tours for a Variety of Business Types
Click on Images to Preview and Navigate Virtual Tours on Google Maps
Integration with Google Maps
Searchers can see the virtual tour of your business immediately on Google Maps and Street View (150 Million Users)
Increased Visibility
A Google 360° Virtual Tour can greatly increase your visibility on a local, regional and national scale, and gives the viewer a preview that encourages them to visit your business.
Share Tour on Facebook and Your Website
Once your virtual tour is finished publishing to Google, you are free to share it on Facebook or your website.
Economical Investment
No recurring monthly or annual subscription fees.
Your virtual tour is working for you 24/7 with a one-time investment for a Google 360 View Virtual Tour Package!
Accessibility
Google technology brings your '360 View' business tour to any size computer, tablet,  iPhone or other mobile device.
Increased Customer Value
We take great care to highlight the special details which make your business attractive and that your potential customers will appreciate. This will also help new customers connect with you.